Austrian quality
+43-7583-51166 Mo-Fr: 8-12 and Mo&Fr: 14-18
You are not registered?
open account beginning with 2nd order
overview about your orders
order faster
manage personal data
register
Product details
Cashmere quilts, measured by their heat output, are by far the lightest natural duvets. The filling consists of the exquisite hair of the HEFEL cashmere goats, which live on the high plateaus of the Himalayan mountains. Special features of these cashmere quilts are the unique relationship between perfect heat output and particularly low weight as well as the superior softness and snugness of the quilt.
The fabric of the duvet consists of 100% premium cotton satin, the filling consists of 70% HEFEL cashmere and 30% new wave. All quilts have body fit quilting and are packed in a carrying bag with an insert.
Care instructions:
It is best to ventilate the blanket regularly but never wash it. Dry cleaning is possible in case of heavy soiling.
The winter duvet is the heaviest quilt and therefore best suited for winter.
Supplier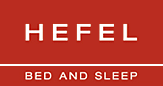 Hefel Textil GmbH
HEFEL Textil is one of the most successful and innovative producers of bedding in Europe and a market leader for natural bedding products. Established in 1907, HEFEL remains a family firm and is proud of its successful track record that goes back more than 100 years. HEFEL is well known for its unique innovations and first-class products of the highest quality. All HEFEL products are 100% Made in Austria and impress with their luxurious fabrics and special fillings based on natural raw materials.
More from this supplier
Showroom
In our showroom you can view a lot of products from the online shop and we will be happy to advise you about our products.
Show on map
Textilshop.at
Rathausplatz 6
4550 Kremsmünster
Monday - Friday: 08:00 - 12:00,
Monday & Friday: 14:00 - 18:00