Austrian quality
+43-7583-51166 Mo-Fr: 8-12 and Mo&Fr: 14-18
You are not registered?
open account beginning with 2nd order
overview about your orders
order faster
manage personal data
register
Product details
With the Mellon business carpet, we offer you dark colors of the Mellon carpet, which are particularly suitable for offices.
The woven carpet consists of 100% PP brand fiber, is hard-wearing, very resistant to water, and has high dimensional stability. The carpet is equipped with a non-slip latex backing. Whether as a custom-made carpet, fully glued carpet as carpeting, as a tread, or as a stair mat, the carpet can be used in many different ways. Choose from the beautiful colors and combine the carpet with a matching border. Mellon means quality down to the last detail.
Technical data: height: 5 mm, the surface weight of around 2400 g/sqm, fire safety class: T-a, Ökotex 100 certified
Cleaning the Mellon carpet is very easy! Regular cleaning is done with a vacuum cleaner. Stains can usually be easily removed with a damp cloth or sponge. The fresher the stain, the easier it is to remove. Mellon is insensitive to moisture and can therefore be wiped clean with a damp cloth, using warm water with a little detergent added. However, the carpet should only be walked on with street shoes after it has completely dried. In the case of large-scale soiling, thorough cleaning by spray extraction is recommended. For heavy soiling, we recommend a special shampoo.
Important note:
When linking carpets that are longer than 4 m, we recommend fixing them to the floor using double-sided adhesive tape, otherwise, the carpet can become wavy. Alternatively, there is the option of only linking the carpet along the cut edges.

Following degrees are available for Mellon:
Bound off:



Synthetic border:



Leatherette border: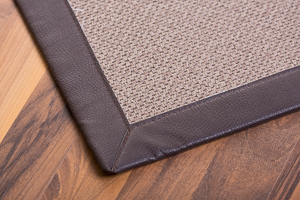 We recommend these three finishes, of course, it is also possible to choose a different material for your border, please contact us.


care tips:
There is no care tip from our supplier!
Supplier
Mellau Teppich
Sisal carpets have been produced in Mellau in Vorarlberg for more than 80 years. The farm is a complete farm. This means that all the work steps of spinning, weaving, dyeing and packaging are done at the location in Vorarlberg.
More from this supplier
care tips:
There is no care tip from our supplier!
Showroom
In our showroom you can view a lot of products from the online shop and we will be happy to advise you about our products.
Show on map
Textilshop.at
Rathausplatz 6
4550 Kremsmünster
Monday - Friday: 08:00 - 12:00,
Monday & Friday: 14:00 - 18:00