Austrian quality
+43-7583-51166 Mo-Fr: 8-12 and Mo&Fr: 14-18
You are not registered?
open account beginning with 2nd order
overview about your orders
order faster
manage personal data
register
Product details
Previously, the typical working towels of the Mühlviertler farmers were made of denim, a particularly robust and highly absorbent fabric made from 100% cotton. The peasants were often woven this fabric even themself! The Mühlviertler weaving "Kitzmüller" has a long tradition, it was built in 1928 as hand weaving, the family produces textiles based on pure natural fibers until today.

Machine washable with 95°C!



Zwilch used to be called Zwillich, which is a dense and durable fabric. The typical "Mühlviertler" pattern has been woven in the beautiful Mühlviertel for a century and is still made in the traditional way today.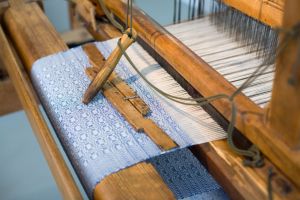 About Kitzmüller:
The Kitzmüller weaving mill is located in Guglwald, in the beautiful Mühlviertel. The Kitzmüller family has been weaving fabrics from natural fibers here since 1928. At that time, the flax was processed into linen by the farmers in the fields in the winter months. The textiles are still produced entirely in the weaving mill today. The weaving relies on diversity and on the linking of old traditions with today's textile aesthetics. And on the tried and tested, such as the tea towels from Zwilch.
Supplier
Teppichweberei Guglwald - vorm. Kitzmüller
Weaving has a long tradition in the Mühlviertel that is still very popular with visitors. What began as a hand weaving mill in 1928 is today the Kitzmüller weaving mill, in which textiles are produced on the basis of pure natural fibers.
Showroom
In our showroom you can view a lot of products from the online shop and we will be happy to advise you about our products.
Show on map
Textilshop.at
Rathausplatz 6
4550 Kremsmünster
Monday - Friday: 08:00 - 12:00,
Monday & Friday: 14:00 - 18:00