sustainable textiles from Austria
+43-7583-51166 Mo-Fr: 8-12 and Mo&Fr: 14-18
You are not registered?
open account beginning with 2nd order
overview about your orders
order faster
manage personal data
register
Product details
ATTENTION - The color mahogany is only available in the widths 70, 90, and 120!
The Mellon carpet can also be made as a tread. It is available in 5 different widths and is delivered with the selvage on the side and linked on the short sides. The carpet consists of 100% PP brand fiber and is ideally suited for the heaviest loads. The carpet is equipped with a non-slip latex backing.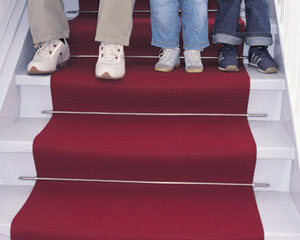 Cleaning the Mellon carpet is very easy! Regular cleaning is done with a vacuum cleaner. Stains can usually be easily removed with a damp cloth or sponge. The fresher the stain, the easier it is to remove. Mellon is insensitive to moisture and can therefore be wiped clean with a damp cloth, using warm water with a little detergent added. However, the carpet should only be walked on with street shoes after it has completely dried. In the case of large-scale soiling, thorough cleaning by spray extraction is recommended. For heavy soiling, we recommend a special shampoo.
Important note:
When linking carpets that are longer than 4 m, we recommend fixing them to the floor using double-sided adhesive tape, otherwise, the carpet can become wavy. Alternatively, there is the option of only linking the carpet along the cut edges.
care tips:
There is no care tip from our supplier!
Supplier
Mellau Teppich
Sisal carpets have been produced in Mellau in Vorarlberg for more than 80 years. The farm is a complete farm. This means that all the work steps of spinning, weaving, dyeing and packaging are done at the location in Vorarlberg.
More from this supplier
care tips:
There is no care tip from our supplier!
Showroom
In our showroom you can view a lot of products from the online shop and we will be happy to advise you about our products.
Show on map
Textilshop.at
Rathausplatz 6
4550 Kremsmünster
Monday - Friday: 08:00 - 12:00,
Monday & Friday: 14:00 - 18:00