Austrian quality
+43-7583-51166 Mo-Fr: 8-12 and Mo&Fr: 14-18
You are not registered?
open account beginning with 2nd order
overview about your orders
order faster
manage personal data
register
Product details
The Agate Carpet is an inexpensive dirt runner with a soft surface. It is made of 100% polyamide and is approx. 8 mm high with a surface weight of approx. 3100 g/sqm. It is well suited for the entrance area and elevator zones, or in the staircase area.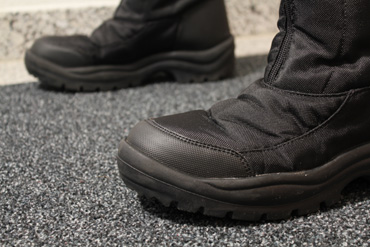 heavy usage is no problem
Fields of application
The dirt mat is ideally suited for entrance areas, stairwells, elevator zones, hotels, restaurants, department stores, schools, banks, and public authorities, i. e. wherever there is a high frequency of public.
The mat absorbs up to 90% of the road dirt and up to 5l of moisture/sqm.
Cleaning
To maintain the effect of the dirt mat, the dirt in it should be removed regularly.
Daily cleaning
For daily cleaning, it is recommended to use a powerful brush vacuum cleaner. The suction opening of the vacuum cleaner consists of one or better two rotating brushes. Through the brush, the pile is erected during suction and the dirt is sucked out.
Periodic basic cleaning
If the dirt mat is saturated with dirt, cleaning should be carried out using the spray extraction method. Water (possibly with a mixture of cleaning agents) is injected under high pressure into the pile of the dirt mat. In the end, the carpet must be rinsed with clear water to remove the last residue of the detergent. Although basic cleaning is often done, the carpet is not damaged or damaged.
After this treatment, you should let the carpet dry. The effectiveness of a dry mat is greater than that of a wet mat.
care tips:
There is no care tip from our supplier!
Supplier
Mellau Teppich
Sisal carpets have been produced in Mellau in Vorarlberg for more than 80 years. The farm is a complete farm. This means that all the work steps of spinning, weaving, dyeing and packaging are done at the location in Vorarlberg.
More from this supplier
care tips:
There is no care tip from our supplier!
Showroom
In our showroom you can view a lot of products from the online shop and we will be happy to advise you about our products.
Show on map
Textilshop.at
Rathausplatz 6
4550 Kremsmünster
Monday - Friday: 08:00 - 12:00,
Monday & Friday: 14:00 - 18:00